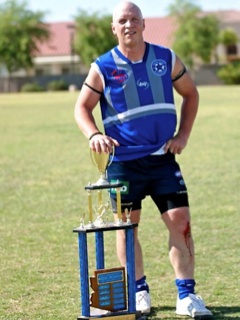 This is an interview with Strength Coach Troy Anderson.
Enjoy.
1. How did you develop an interest in kettlebells?
Truth be known, for at least a few months there early on I was an anti-kettlebell person; buying in to the bullshit that you can just use a dumbbell. How wrong I was.
My ultimate interest in kettlebells has always been the access they give to people to perform movements that they never would have in a normal environment; whether it is an athlete or some just looking to lose a few pounds. It is all about having the accessibility to the fastest journey from point A to point B and kettlebells provide that.
2. Most programs are written specifically for strength or specifically for fat loss. How do you program for both?
I think people used to think that they could not do both; but there is a trend out there that that is starting to insert heavier loading into fat loss programs. I think most of us would agree a large degree of fat loss is changing what goes into your mouth.
Strength and fat loss actually go quite well together, although we have been conditioned to think otherwise. When you think about it with pure strength work you should use relatively low volume work and with a restricted fat loss diet you don't want to expend too much energy.
Here's a personal example : I did the better part of a train-up for a strongman contest while using something called the velocity diet (fairly restrictive fat loss protocol) and it did not effect performance at all.
3. Why use kettlebells for strength and fat loss when you can use other tools?
Ultimately it is accessibility. If you are a pretty decent coach and your client has the physical ability with kettlebells the door is wide open.
It's really as simple as this - the vast majority of people can't squat or deadlift worth a damn, and we can get proficient at that stuff quickly with a kettlebell. There is no psychological 'hang-up' of having to 'address a big weight' and that is beyond value. Not only in long term movement quality but in regard to fat loss too they use more of the 600 principle as my friend Dax Moy likes to call it; in short they are using more of their 600 muscles and that is a good thing when it comes to fat loss.
Not to mention we can progress them to things like swings, snatches, get-ups and flowing complexes.
For athletes it is sad to say but most of them are pretty strong but move like shit, it allows the access again to refine some movement and coordination and then put the foot on the pedal and go into advanced movements again while having a very short learning curve, it's very powerful.
When were are honest about things we need athletes in & out fast with high impact results, not spending a ton of time teaching minutiae or refining technique.
Kettlebells are the perfect blend of a tool that provides diversity, and accessibility to many different populations; whether it is performance strength work, metabolic work, or even mobility work with just a couple kettlebells. As someone who needs their 'tools' to make money, that is invaluable.
4. Why double kettlebells?
Well as you may have figured I am not much of a 'load nazi', that is the apparent thing that the double kettlebell provides and for most people and athletes that is enough.
With the kettlebells we are allowed the opportunity to move relatively heavy weight fast, and this very good for developing athleticism and even better for fat loss.
There is another component and this something I call integrity; basically when someone is forced to hold the kettlebell(s) in the rack position regardless of the movement it just brutalizes the core in a good way, in other words it keeps people from being lazy and at the same time slips in a sneaky little bit of core work.
5. Can you describe a sample workout?
We have a variety of signature workouts from Big Iron Burn (BIB), Chaos Method (CM), and Smoke Session (SS). Things that make our program a bit different from purely the exercise standpoint.
We have a 'pick your own ending' style with the chaos method that switches things up everyday or Big Iron Burn which is a primary movement plus a burn circuit that supports the movement developed in the big iron portion.
Then we have the metabolic Smoke Session. Ultimately the programming is set up to sustain progress whether you are a kettlebell newbie or a fitness enthusiast so you will be able to step in and get kickass results.
Since most people want to feel like they worked out here's an example of a workout that I shot this fall with a football theme.
If you would like to check out all our other free workouts and videos go to: www.kettlebellworkoutvideos.com