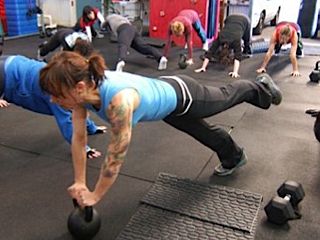 This is a guest post from Fitness Fixation's Kelly Mills. Oh Ladies, Time To Start Strength Training...
---
Remember last time I said ladies should lift? Nothing has changed. But some of you may now be saying, "Well, I'd love to start a strength training program, but I have no idea where to start." And others of you might be saying, "Why should I listen to this bitch anyway?" Okay, let's tackle the latter first. I have no idea. But, I mean, you've read this far, so may as well keep going.
Look, I avoided weight training for years. Going to the local gym and putzing around on the little dumbbell curl machine had about zero appeal to me, and though I tried to get into it from time to time, I could never really commit to what felt boring and pointless and much less appealing than staying home and watching bad sitcoms on TV while eating spoonfuls of peanut butter right out of the container. (I suppose my blog in those days could have been called, "Straight to the Jar".) But then I found a style of weight training I loved, namely this kickass combination of plyometric drills and running and jump-rope with technical lifts and cool tricks mixed in for a terrifyingly hard and super fun workout, and I got hooked. I'm not saying that will absolutely work for you, but there's probably something out there involving barbells and exercises that will. Oh, and did I mention that this training also made me lose body fat, get muscle definition, speed up my running, protect my bones, feel super strong and badass, and lift my ass a good inch higher without Spanx? And that I'm not one of those naturally skinny people who can eat anything and look like a rail? That my metabolism is so slow I could probably survive as long as the cockroaches after the nuclear winter wipes out all the food supplies? Just saying.