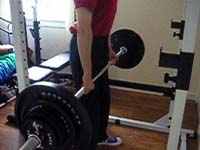 After a good dose of sleep I wasn't quite fighting fit, but a close enough to it to test out the low rack pulls following last week's curious partial deadlift results.
With the bars set a little below the knee, I worked up to a respectable 110kg max; giving me ample opportunity to review form. It seems that the hips start moving a little before the shoulders, especially as the lifts get heavier, so it looks like a little more back work is called for.
Following the rack pulls came the return of that old favourite, the Romanian Deadlift, which was introduced to the confines of the power cage. I set the bars low (at full stretch), which had the advantage of ensuring I went deep enough with every rep. Felt much better.
Just when the hamstrings were about to quietly slink up to the back of the room, the manual GHR reared its ugly head once again; this time with help from the bench with leg attachment in place (suitably weighed down of course) so I had somewhere to hook my feet. Still not entirely satisfactory, and I suspect I'll head back to the stability ball option. The amount of push-up assistance is easier to vary - gradually removing it as strength increases.
Next up were Good Mornings, and for once I decided to do the simple, standard movement. These were light sets getting used to the technique more than anything - especially bending deep enough on each rep, there seems to be a natural tendency toward doing half-reps - in light of their probable inclusion in many more sessions.
Finishing things off were a few sets of hanging knee raises, which are far more fun than any sort of ground-based ab work. Love them.
The routine:
ME SQ/DL
Dynamic stretching
Rack pull (below knee)
2×5@50kg,
2×3@70kg,
2×2@80kg,
1@100kg,
1@105kg,
1@110kg,
0@115kg,
Romanian Deadlift
4×5@60kg, 4×5@70kg
GHR

(push-up assisted)
10@bw
Good Morning
4×10@20kg
Hanging knee raise
4×10@bw
Isometric stretching
Total time
: 83 mins